Postpartum Oatmeal Cookies Recipe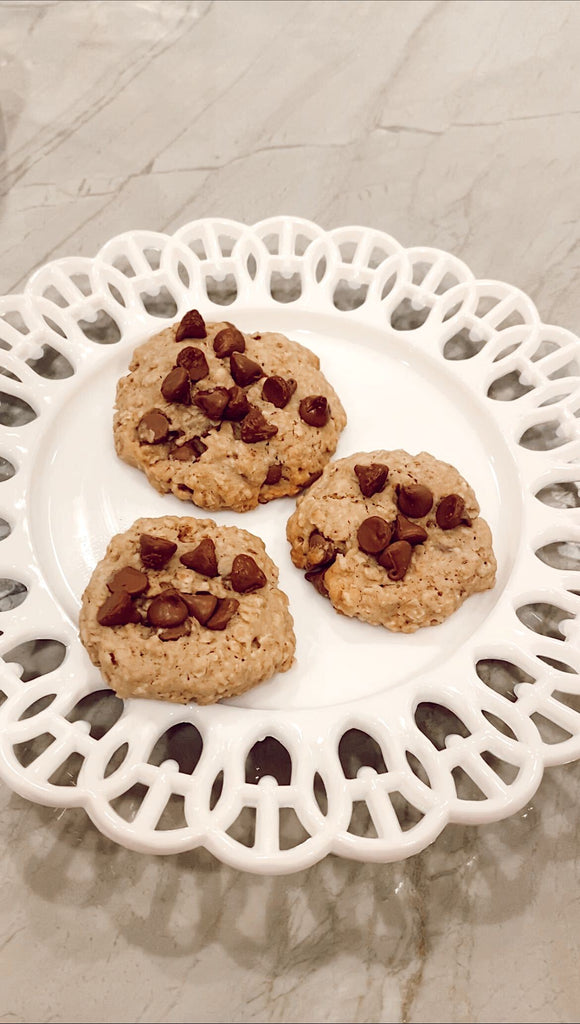 Our postpartum oatmeal cookies are more than just a sweet treat – they are a blend of wholesome ingredients carefully chosen to aid in recovery, boost energy, and support lactation. In this recipe, we'll guide you through creating these delicious and purposeful cookies, each bite a gesture of love and care for yourself during this incredible chapter. Let's bake up a batch of comfort and well-being that you truly deserve.


Ingredients:
½ cup (115g) unsalted butter softened

1/3 cup (65g) brown sugar

3 tablespoons (40g) granulated sugar

1 large egg room temperature

2 teaspoons pure vanilla extract

1 ½ cups (188g) of oats

1 cup (125g) all-purpose flour

1 scoop amma360 Postpartum Protein+ Powder

½ teaspoon baking soda

¼ teaspoon kosher salt

1 ½ cups add-ins M&Ms, chocolate chips, nuts
Instructions:
Preheat the oven to 350°F (177°C).
In a mixing bowl with the paddle attachment, place the butter and both sugars. Beat on medium speed until light and fluffy, scraping down the sides of the bowl.
Add egg and vanilla extract and mix for another minute or so.
Add oats, flour, Protein+ Powder, baking soda and salt. Mix until just incorporated.
Stir in the add-ins of your choice.
Using a medium cookie scoop (about 1 tablespoon of dough), shape the dough into 1-inch balls and place 8 cookies per baking sheet. Flatten the cookies slightly.
Bake the cookies for 8 minutes, or until the edges are set, one sheet at a time. The cookies will look a bit under-baked, but they'll set nicely once cooled.
Cool the cookies on the sheet for 5 minutes, then transfer to a cooling rack to cool completely.
Store in an airtight container for up to 5 days.
We hope you enjoy this recipe, ammas! Be sure to share your photos and videos with us by tagging @amma360health on Instagram!